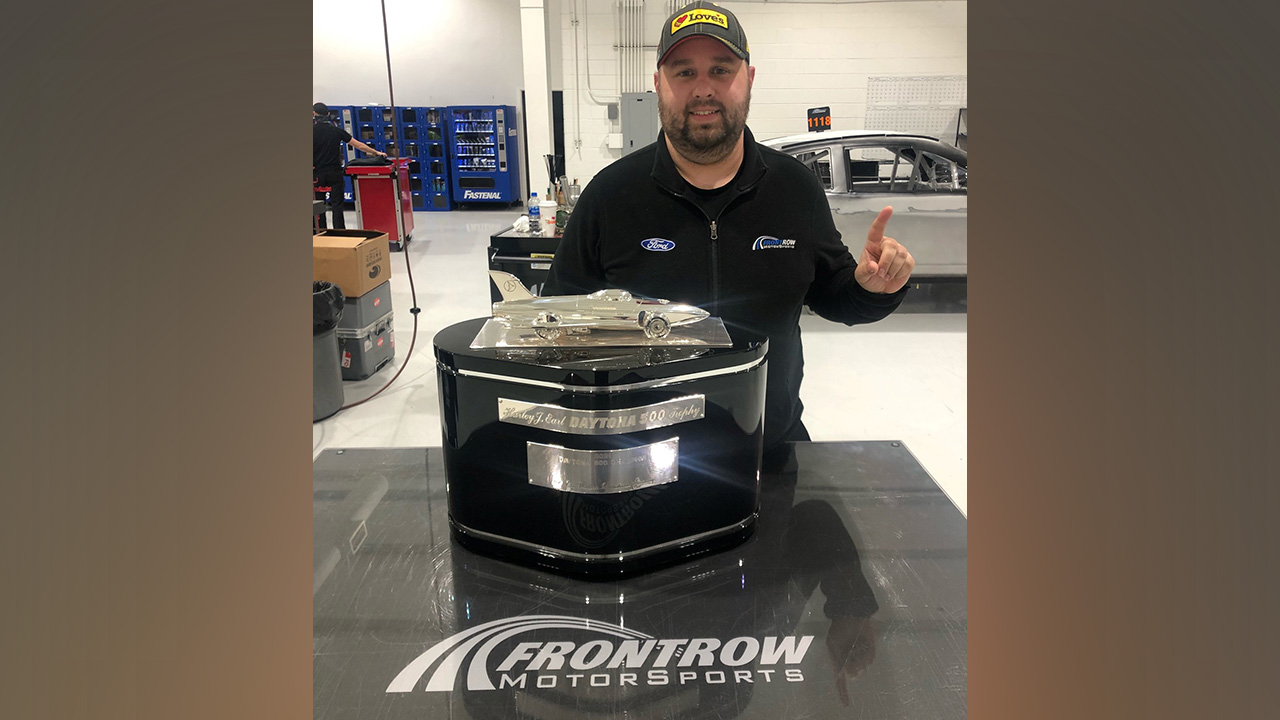 The win in NASCAR's biggest race came down to a few key seconds for lead engineer Chris Yerges and his team at Front Row Motorsports. But behind each of these winning seconds were countless hours of precise preparation and planning days before the rubber ever met the pavement. The work was certainly worth it for the UW-Platteville Master of Science in Engineering student, as driver Michael McDowell finished first at the Daytona 500.
"It's the biggest race we have. NASCAR itself was founded five miles down the road from the track. It goes down to the very core and essence of NASCAR racing," Yerges said. "It makes your season. It can define a career. It's our Super Bowl."
Yerges' love of racing developed at an early age. His first job was at a popcorn stand at a racetrack 30 miles from Green Bay. A year later, in eighth grade, he built his own car and went from selling to fans to being the reason they showed up. It was those early days racing on the track that cemented his career path. That path would lead him to the University of Wisconsin-Platteville bachelor's in engineering program.
"UW-Platteville had a well-known engineering program and was close enough so I could race on the weekends. What a decision that was," Yerges said.
Yerges became heavily involved in several campus organizations, including the Segregated University Fee Allocation Commission, Student Center Advisory Committee and the Sigma Phi Epsilon fraternity. However, his desire to work in NASCAR led to his decision to leave UW-Platteville and move to its headquarter city. He finished his undergraduate degree at UNC-Charlotte, which had a motorsports concentration.
Still, it always nagged at Yerges that he did not hold a degree from the university that he loved. So, when he decided to go back to graduate school, UW-Platteville sat atop the list. When he was awarded the National Science Foundation Master Scholar (NSF) grant, the decision to enroll in the Master's of Science in Engineering program was a no-brainer.
"The financial side of everything at the end of the day was super important," Yerges said. "So to get an NSF scholarship made a huge difference. UW-Platteville also offered a few courses that were more technical in the curriculum that I wanted to pursue.  It was the overall strength of the program combined with the finances that made UW-Platteville my ideal pick."
"I am lucky to have some professors at UW-Platteville that were very good about bringing some practicality into the coursework. They really teach and mold you how to think and tackle a problem by breaking it apart. That's critical in racing."
Yerges has completed all the coursework needed to earn his M.S. Engineering Management degree, but is planning to take another three classes to meet the requirements for the Control Systems emphasis. Yerges said he has already applied the lessons learned to his job as lead engineer.
"I am lucky to have some professors at UW-Platteville that were very good about bringing some practicality into the coursework. They really teach and mold you how to think and tackle a problem by breaking it apart. That's critical in racing," Yerges said. "You have to be able to figure out ways to pick  apart a very complicated system and know the practical side of things, not just the theoretical."
It's those practical skills that Yerges utilizes each day as the lead engineer for Front Row Motorsports. He characterizes himself as a co-offensive coordinator for the team. "I handle a lot of the more technical aspects of the car.  I develop setups with simulation during the week and try to figure out the best setup based on the information we have," Yerges explained.
On Feb. 14, as driver Michael McDowell pushed his car to the limit to navigate around competitors and carnage, Yerges worked to make sure the car continued to run in the front of the pack.  During a race, he sends the crew chief strategies and suggestions on ways to make the car faster, including things like fuel mileage, pitstop windows, and changes to the car to help with handling balance. On that particular day, he said everything was clicking for the team.
"We operate at a third of the budget of most of the big teams, but speedway races create opportunity.  If you work hard and have a car that's good enough, you can put yourself in the right position at the right time to take advantage of an opportunity."
That's precisely what happened for the Front Row Motorsports team. McDowell was running in third place on the final lap when a crash took out two cars ahead of him. Seconds later, the caution flag came out with McDowell just a fraction of a second ahead of the pack, earning him the win.  For Yerges, it marked his 18th win in NASCAR and his second in the Cup Series. But he said nothing quite compares to winning the big one. 
"I kind of have to pinch myself," Yerges said. "On those bad or frustrating days, all you have to say is we won the Daytona 500 and everything just melts away."